We all know about Bhagat Singh as a freedom fighter of India who play a vital role in Indian independence movement and here on this page I am going to share some unknown and Interesting facts about Shahid Bhagat Singh with his biography and Bhagat Singh Lesser Known facts. These unknown facts of Bhagat Singh are collected from several online website so that you can get maximum unknown and interested facts of Bhagat Singh on a single page.
Shahid Bhagat Singh Biography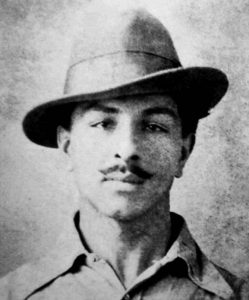 Born:  September 28, 1907 at Khatkar Kalan in Jat Punjabi Sikh Family
Died: March 23, 1931, Lahore, Pakistan
Education: National College, Lahore, Dayanand Anglo-Vedic Schools System
Books: Why I Am an Atheist
Parents: Sardar Kishan Singh Sandhu, Vidyavati
Siblings:Bibi Amar Kaur, Kultar Singh, Rajinder Singh
Movements: Indian Independence movement
Organizations: Naujawan Bharat Sabha, Hindustan Socialist Republican Association
Bhagat Singh Interesting & Unknown or Lesser Known Facts
Birth of Bhagat Singh
We all know that Bhagat Singh was born in 28th September 1907 but very less people are aware about it that when he was born with a coincidence that his father and 2 uncles Ajit Singh & Swarn Singh were release from jail.
Bhagat Singh was an Atheist
After discovering Lenin, Marx and Trotsky, Bhagat Singh became an atheist, abandoning his Sikh religious belief.
Bhagat Singh as an Actor
Bhagat Singh was a great actor in his college and participated in several plays of college. Most notable plays of Bhagat Singh were 'Rana Pratap', 'Samrat Chandragupta' and 'Bharata-durdasha'.
Jalianwala Bagh Incident
We all know that in Jalianwala Bagh British killed several Indian brutally but the point of view of Bhagat Singh was different from the other at the age of 12 right after the Jalianwala Bagh incident, He bunked his school and went to the place of tragedy and collected a bottle of mud wet with blood of Indians and he worship this bottle every day.
Bhagat Singh Not Play with Games & Toys
At the age of 8 when most of children interested to play games or toys Bhagat Singh talked about driving our British from India instead of Games & toys.
Guns in fields
As a child, Bhagat Singh often talked and wanted to grow guns in the fields, so that he could fight the British.
Central Assembly Bombs Blast
The bomb blast in the Central Assembly in Delhi were made from low grade explosives as the intention of this bomb blast was only to startle and not harm later the British investigation into the incident and forensic report also confirmed this.
Inquilab Zindabad
Inquilab Zindabads is an Urdu phrase which translates to "Long Live the Revolution!" Its first use by a revolutionary was in 1929 when Bhagat Singh shouted it after bombing the Central Assembly in Delhi. It became one of the rallying cries of the Indian independence movement.
Bhagat Singh Diary
While he was imprisoned in Lahore Jail Bhagat Singh kept a diary with him. This diary contains his impassioned views about freedom and revolution is available for all to read and be inspired.
Capital Punishment to Bhagat Singh
The death penalty was ordered to 24th March 1931 but later schedule was moved forward by 11 hours and he was hanged on 23rd March 1931 at 7.30 pm along with his companion Rajguru & Sukhdev in Lahore Jail. It is reported that no magistrate at the time was willing to supervise Singh's hanging as was required by law. The execution was supervised instead by an honorary judge, who also signed the three death warrants, as their original warrants had expired. The jail authorities then broke a hole in the rear wall of the jail, removed the bodies, and secretly cremated the three men under cover of darkness outside Ganda Singh Wala village, and then threw the ashes into the Sutlej river, about 10 kilometres (6.2 mi) from Ferozepore. However, thousands of people on hearing the news gathered at the spot and took out a procession with his ashes.
Instead of these top 10 best interesting and unknown facts of Bhagat Singh few are highlighted below.
He was a new type of prisoners as coined inquilab jindabad and political prisoners.
Bhagat Singh was also a great writer who contributed to many newspapers of that time.
Bhagat Singh was inspired by the ideals of socialism from an early age. Gaining interest he used to read about the socialist revolutions that were led by Lenin.
He ran away from home to escape an early marriage.
Singh said: "They may kill me, but they cannot kill my ideas. They can crush my body, but they will not be able to crush my spirit." This was to be quoted many times over by revolutionaries after Singh's death.
His childhood hero was Kartar Singh Sarabha.
He wrote and edited many Urdu and Punjabi Papers.
Hope you like this piece of information about Shahid Bhagat Singh if I missed any facts about him which I should include in this post please let me know via your comments in below box and don't forget to like and share it.