Indian Administrative Service abbreviated as IAS is civil services exams where in if an aspirant qualifies it and then he has the power to hold eminent positions in the Union Government, State Governments and Public sector Undertakings.
The difficult part is that paper is quite tough. Above all there are lacs of aspirants but only a few seats. So in this post, I will solve your following queries about – How to crack IAS in your very first attempt?
If cracked then how to prepare for the interview? Which is the best institute to join to crack IAS entrance exam?
Well there may be plethora of other questions.
So here is step by step guide to crack IAS entrance exam: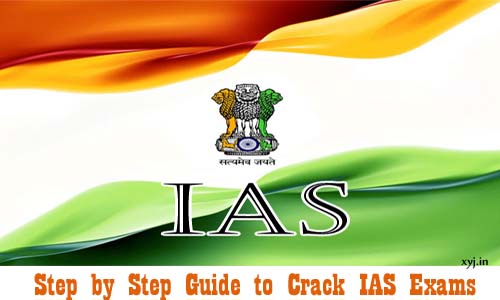 Know your syllabus well
It is of utmost importance that you have deep knowledge of your syllabus. Moreover the syllabus that you know should be up to date. In fact you will be surprised to know that the subjects that you studied in board classes or even earlier classes like History, Civics and Geography are also included in the syllabus. Well to look out for the exact syllabus, you can easily download the PDF file from the official IAS site.
Let me give a brief idea about IAS syllabus and mind you, that if you clear the very first examination, then only you are eligible to give other examinations.
PRELIMS OR OBJECTIVE TYPE EXAMINATIONS
In this there are 2 examinations each of duration two hours. These two papers are of General Studies and other is an optional subject that you need to choose from Psychology, Sociology, Philosophy, Agriculture, Math, Physics, Chemistry, Stats.
MAINS OR DESCRIPTIVE PAPER
You need to have good writing skills, clarity of expression as you need to write an essay of approximately 2000 words.
INTERVIEW
Once you clear the descriptive examination then you are eligible to sit for one on one interaction with the interviewer.
Here in you are judged on the basis of various skills like intelligence, mental awareness, spontaneous response, pressure situations and many others.
If you have seen Exam (2008) movie then you can understand how simple the answer was but was very tough to reach it through logic.
So you have to learn interview skills. The interviewer seeks to know your mental capabilities and awareness more than anything else.
Shortlist your coaching institute
The best way to shortlist your coaching institute is to see their past records and have interaction with their faculty members and students.
The best way to do is by actually visiting the institutes and asks them for the demo or free trial classes from the institute. In this way, you can judge the institute.
In my opinion there is an established institute for IAS in Connaught Place, New Delhi and you can consider it as one of your option. An another institute which I would strongly recommend is the newly opened joint venture by two pioneering engineering coaching industry that are Narayana and Sri Chaitanya.
These two institutes have collaborated and have stormed into civil services coaching. Apart from eminent faculty, highly developed study material one should also look out for well stocked library and regular model exams.
Above all, you can join best coaching Institute in India.
Starting time
There are two levels
a) Level-1 is usually for 11th and 12th students and they can start preparing subjects like foundation of civil services, General studies and CSAT.
b) Level-2 is for undergraduate students and subjects that are covered are UPSC syllabus, general studies and optional subjects.
You can choose which level that you want to opt for and how much priority you want to give for IAS examination preparation.
In the end, I would conclude that there is a speculation that UPSC is seriously contemplating to bring about changes in the pattern of Main examination from 2013/2014 on wards. One can expect optional subjects to be replaced by new components.
So I assure you following the above guidelines step by step to crack IAS entrance exam.