Don't you know what is the meaning of Valentine Day dress code? And what color dress code you should avoid and why on valentine's day? It is because your dress code helps to show that whether you are free for affair or already engaged with someone or to let others know that you are not in love on Valentine's Day.
To answer of all these questions I decided to write this post because dress code is note by several people on the valentine's day either it's boy or girl.
As only few days are left for the valentine's day as the Date Sheet for Valentine's Day already release so that, lovers can plan which day what they have to do.
As earlier I said dress code on Valentine day show your mood suppose you are already engaged then you can wear White dress which simply means that "sorry dear, I am already booked" wear the brand new Orange Dress if you are going to propose someone, pink if your proposal is accepted and several other colors have their own meaning which is mentioned below.
Valentine's Day Color Dress Code Meaning

Blue – Going well, free now and Applications Accepted!
Green – I am waiting for you only!
Orange – Going to propose.
Pink – Proposal accepted!
Black – Rejected proposal.
White – Sorry dear, I am already booked! (Heart Full)
Grey/Purple – Not interested, better luck next time!
Red – Two side, already in love!
Yellow – Broke up. 🙁
Brown – Broken hearts! :(:(
I have also attached image of these colors so that, you can save it in your PC, laptop, mobile as screen save or wallpaper.
Valentine's Day Color Dress Code Meaning Image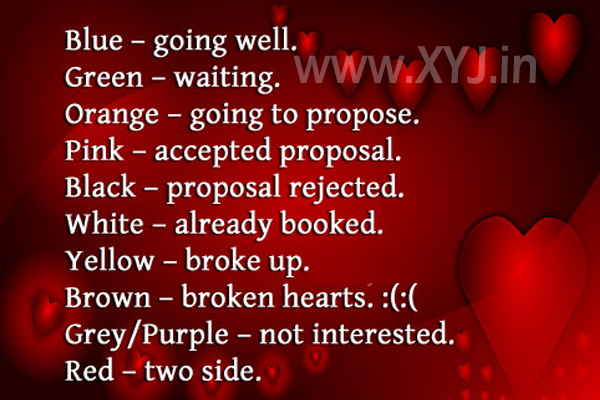 I know most of you will wear Blue Dress as it's indicate free now J instead of this would like to hear from all of you what colors you will try either girls or boy all of your comments are welcome thank you for reading.
Also see this funny Valentine's Day Color Dress Code Meaning Image