Going though an up and down in the life is not new for the person who have responsibility of the name our country. They really play well and unbelievable like Our soldiers on the border, and Our players in the ground. And India is really one the best countries where people never give up or if they do, they again stand up in a nano-millisecond with courage and new determination.
Yuvraj Singh, A renowned cricketer, is one of them who has gone though a lot of incidents, but the best part which make us his fan and follower is like he never ever gives up. Although, when he was suffering with cancer, then instead of giving up he not only stimulated himself from that in fact he initiated a campaign to get motivated  and fight against cancer, which is supported by millions of people. Yuvraj is always been a motivation for people.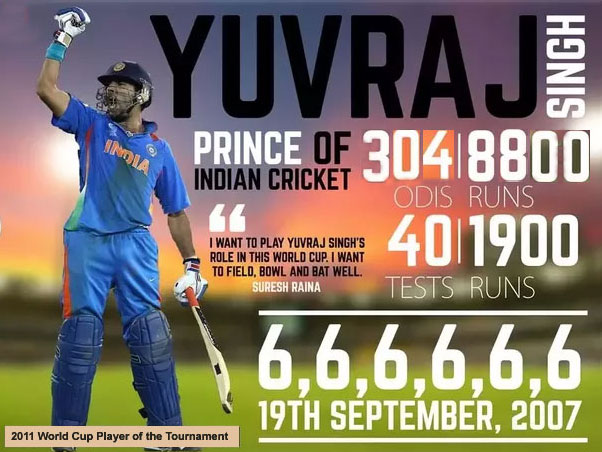 For cricket if we talk, then it's not wrong saying that "Yuvraj Singh is the first and the last to score 6 sixer with an over in the year 2007". Every Indian, who wants to see India as a winner in Cricket world cup 2019, is supporting and demanding Yuvraj Singh to be selected in the team. He is fit or has qualities to reach the height and to bring the trophy back to home again. He is always appreciated by people.
"Yuvraj Singh is one of the best batsmen to watch in world cricket when he's in form. He is ego personified. Yuvraj doesn't just hit the ball, he lets it rebound off his aura." 
― Jarrod Kimber
He is the one who definitely has the excellence to win Cricket world cup. Still if someone has doubt or forget how he plays well, so let's have glances on his performance in the ground. When he is consistently playing in different formats and scoring runs in Ranji Trophy season followed by the Syed Mushtaq Ali T20 and IPL. He was appreciated widely when –
"Gurkeerat Singh Mann and Manpreet Gony complemented Yuvraj Singh's all-round show, adding 80 runs in 7.5 overs to guide Punjab to a three-wicket victory over Railways in a group A league game of the Vijay Hazare Trophy."
It's not enough in fact he has won a number of matches for Punjab single handedly. It's YUVI only who has proven his track record with his achievements and has capability to be selected as a International player. He is one of them who can make India proud once again on the "Big Stages" as a Cricket World Cup Winner 2019.