If you are a person who loves to take photographs either personally or professionally then this article is for you. There are so many interests for photographers like wild life photography, nature, portraits, architecture, etc., Whatever might be the interest if are into photography, you will definitely spend some decent amount of money to purchase a professional camera. With such type of camera, you will get more options to take a perfect picture and get that clarity in the pictures too.
DSLR cameras are such type of professional cameras. Their size varies based on the features, lens and other characteristics. The more equipment it gets the more it gives you perfect clicks. When you are going with such high end cameras, other stuff like drones, lenses come into picture. Carrying these items is a challenge especially for a regular traveler. These items should stay well-protected to get impressive pictures and keep your things always new.
While travelling, carrying all of them is a daunting task and you might get a scratch on any of your precious camera items. So, specially designed camera bags, slings, holsters or backpacks are a must. These bags help your camera to stay in shape and who knows you can click some amazing pictures on the go without worrying much on how to carry them.
There are different types of camera bags that are available in the market with different sizes and types. Some of the types that you can choose are pouches – Secure your camera from basic damage, holsters – keeps your camera and other accessories safe.
They can be easily fit into your suitcase or your travel bag, backpacks – you can carry a laptop along with your DSLR camera stuff, shoulder bags – messenger bags which are more popular for cameras. These are some of the types that you can choose from those that are available in the market.
In this article, we are listing top 5 DSLR camera bags that you can use for travel in India. In addition to that, we are also listing few benefits of using camera bags. With these benefits, you will get an idea of camera bag usage and later go through our recommended list of camera bags and feel free to check more details with the link provided.
Benefits that you can achieve by choosing an ideal DSLR Camera bag for yourself
Before going into the top recommended products from our research, let us see some benefits that you get when you use a DSLR camera bag. Based on this, you can move on to recommended list with more idea in mind.
Separate Comfortable Bag
When you are travelling with a bunch of bags, and you need to take the camera out for every few minutes, then a separate bag specially designed for camera would be ideal and comfortable to use. You can just carry this bag around and focus on only the photograph rather than on how to carry them. As each equipment of the camera gets a dedicated space, you do not need to grope through your stuff to find an accessory. By the time you search for them, your perfect click is gone.
Specially designed
Each and every compartment of a camera bag is designed specifically for carrying a camera and its accessories. There are pockets where you can keep your lens, and every model of DSLR has a camera bag designed for that model specially. So, the fit would be perfect and safe.
Ease of Access
Being a photographer, it is important to be fast enough to capture the moment. For this super-fast access of your camera or other accessories needed for the click, a camera bag helps you a lot. Many dedicated camera bags have side compartments for you to access materials super-fast.
Customizable
Most of the high-end camera bags have an option to customize the bags, like rearrange the compartments to fit your needs. This freedom of adjusting the camera bags is an added benefit for you to use the camera comfortably and focus on your photographs.
5 Best DSLR Camera bags that you can buy today
Now that you have seen the benefits of camera bags, we are sure you want to purchase one. There are many bags available in the market. Here, we have reduced your pressure of searching everything and consolidated top 5 DSLR camera bags that are available today in the market. Go ahead, have a look and compare each item to check the item out.
Amazon Basics Large Carrying Case for GoPro,Black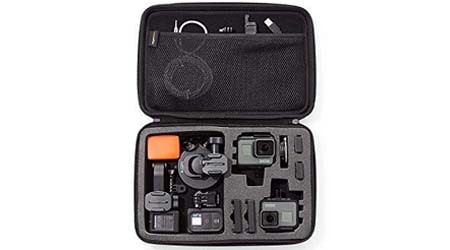 The first camera case is from AmazonBasics. This is a large case that can accommodate 2 GoPro cameras and their accessories. With perfect pockets for placing these items, the case definitely keeps your cameras and accessories secure and neatly organized. The case is designed with high-quality EVA foam interior. The compartments in the case are perfectly shaped and holds the below: two cameras plus housing, two LCD/battery packs, SD memory cards, a suction-cup mount, a wall/car charger, housing backdoors, two extra batteries, a remote control. Along with these, an elastic mesh pocket is also present which can accommodate extra equipment. Any GoPro camera can be used with this case. The case is durable with good-quality zippers and carry handle.
Pros
Eva foam pre-cut slots to hold the camera and accessories safely
Measures 13 inches length, 9 inches width and 2.5 inches height
Comes with 1 Year warranty
Cons
Some people felt that the size of the compartment is a bit small.
Amazon Basics Large DSLR Gadget Bag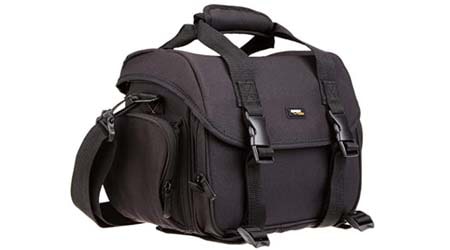 The second one from our list is also from AmazonBasic and can accommodate a DSLR body up to 3 lenses and accessories. There are adjustable straps that come with the bag on the exterior to carry a tripod. The straps are heavily padded and can be easily carried on the go. With adjustable feature, you can wear it as shoulder strap without much feeling the weight on you and you will be able to focus on your pictures. The bag has bright orange interior which is stylish. Another interesting feature of this camera bag is that, this bag has a separate compartment to hold Ipad mini, Google Nexus 7 or Amazon Kindle Fire. So, along with your camera you can carry your tablet as well.
Pros
Adjustable strap to carry tripod
Special tablet compartment
Fits DSLR camera body with 3 lenses and other accessories
Comes with 1 Year warranty
Cons
Amazon Basics DSLR and Laptop Backpack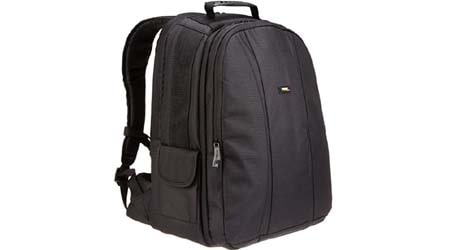 The next camera bag is of Backpack style and again is from AmazonBasics. This backpack model is very comfortable to use especially if you are habituated to them. The backpack can accommodate 2 SLR camera bodies with 3-4 lenses, a 17 inch laptop, and other accessories. The laptop compartment is especially useful as you do not need to carry a separate bag if you need to carry a laptop. The interior dividers can be moved to adjust with your equipment. The interior is well padded to protect your equipment. The bag has adjustable straps to carry a tripod as well. There are adjustable chest and waist straps which are safe and comfortable for on the go purpose.
Pros
Accommodates two SLR camera bodies, 3-4 lenses, 17-inch laptop
Adjustable straps to hold tripod
Adjustable interior dividers
Comes with 1 Year warranty
Cons
Amazon Basics Camera Sling Bag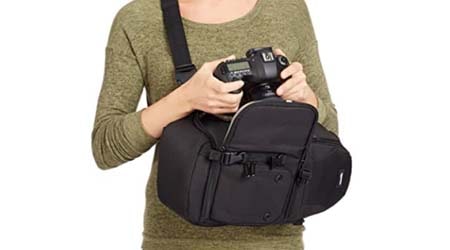 If you are a fan of sling bags, then the next bag is for you. This bag has a padded sling strap which can be conveniently moved back to front making it easy to access. The bag can accommodate 1 DSLR camera already attached with a zoom lens, accessories and extra lens. The main compartment of the bag opens in 2 levels – camera access and then lenses/accessories. The top compartment can be used for accessories/personal items for easy access. The internal dividers can be adjusted or removed as required.
Pros
Accommodates 1DSLR camera with lens, 1-2extra lenses and other accessories
Main compartment can be opened in 2 levels
Top compartment can be used for accessories
Cons
Amazon Basics Backpack for SLR/DSLR Cameras and Accessories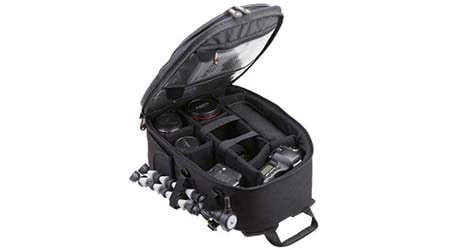 The last bag from our list is again a backpack model. This backpack can accommodate 2 small SLR camera bodies, 3-4 lenses and additional accessories. There are front and front top pockets to accommodate documents, travel liquids, water-bottle pocket is also available. The compartments are adjustable and padded for extra protection. There are lots of pockets that can be used for smaller accessories or personal items. The adjustable strap can be used to carry tripod.
Pros
Adjustable and padded compartments
Waist, chest and shoulder straps for comfort
Large bag with lots of pockets
Comes with 1 Year warranty
Cons
Conclusion
After seeing the benefits and our top recommended list, you can now finalize your perfect camera bag for your DSLR. As we have provided the links, fee free to check more details and pictures of these bags. Once you like the item, go ahead and purchase one to use them for your next travel and click some beautiful pictures.