May be you don't trust that Auto companies launching more new scooters / scooty rather than bikes in India it is because two wheeler segment is growing faster than common people thought. As middle class people look for best mileage and controlled speed on roads and that's why scooter /scooty become the main attraction of people. Instead of this it become common people first choice because it can be drive by the ladies, young and old persons without much driving experience rather than other vehicles.
As craze of two wheelers is increasing very rapidly in Indian people and that's why Auto companies launching scooters / scooty with latest technology like automatic scooters and electric scooters are emerging and acquiring lot of fans nowadays.
As it's becoming much popular and middle class to high class family become fan of scooters so I decided to introduce you all with the list of most preferred and best selling latest models of scooters for both male and female under the budget of Rs. 50000.
Have a glance on top 10 best scooters /scooty below Rs. 50,000
Hero MotoCorp Pleasure
Price: INR 43,000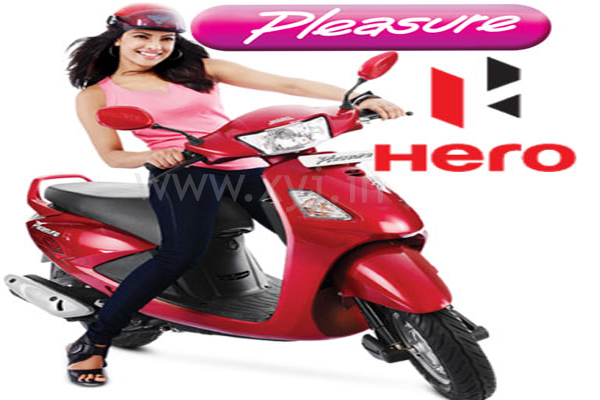 With main focus to Indian lady / women Hero made its Hero MotoCorp Pleasure Scooter / Scooty with the popular tag line "Why Should Boy Have All the Fun" So it's time for Girls to have fun with pleasure.
Features inbuilt in Hero MotoCorp Pleasure
40-45 kmpl mileage
Engine is powered with 102 cc
4 stroke single cylinders
Maximum power of 5.03 KW @ 7000 RPM
Highly defined body graphics, rear mirrors
Rear grip, tail light, multi reflector headlight
Self-start option
Max. Speed 77 kmph
TVS Jupiter
Price: INR 44,200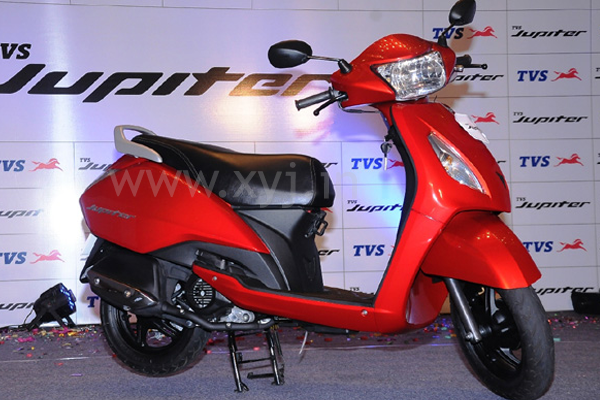 TVS Motor Company (TVSM) launched its scooter under Rs. 50000 and people can grab it in just 44,200. The TVS Jupiter available in single variant and you have 4 colors to choose namely MIDNIGHT BLACK, PRISTINE WHITE, TITANIUM GREY and VOLCANO RED.
Features inbuilt in TVS Jupiter
62.00kmpl mileage in highway and 40kmpl in city
Powered by 109.7cc
Single cylinder, OHC engine with 109.7cc Displacement
8 Bhp @ 7500 rpm power and 8 Nm @ 5500 rpm torque
Engine mated with Automatic gears
150.00 mm Ground Clearance, 130mm Drum brakes in front and rear
Telescopic front forks
Gas-charged rear suspension
Large leg space for smooth and comfortable drive
Single variant but four colors to choose from
Honda Activa i
Price: INR 44,500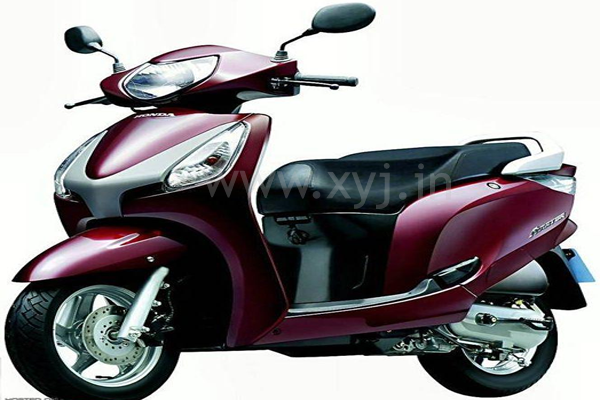 It is claimed by several people that Honda launched only costly scooter / scooty so its gift for the people who looking for Honda scooter under Rs. 50000.
Features inbuilt in Honda Activa i
60kmpl mileage
Powered by 109.2cc 4-stroke
Air cooled engine
Produces 8.15PS @ 7,500rpm and 8.74Nm @ 5,500rpm torque
Combi Brake System (CBS)
TVS Scooty Streak
Price: INR 44,500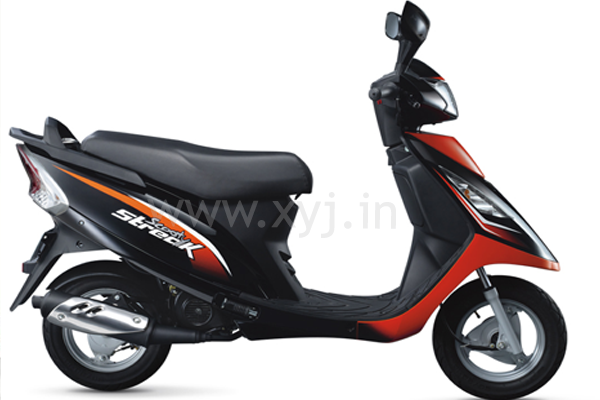 TVS Scooty Streak made to keeping in mind both men and women. The company made it for India's young college goer and working women. So we can say it is one of the few scooters that are not targeted towards a larger consumers but a limited set of customers.
Features inbuilt in TVS Scooty Streak
Top speed offered is 75kph
75.00kmpl mileage in highway and 55kmpl in the city
Powered by 87.8cc, 4-stroke engine
Low fuel/battery indicator
87.8cc displacement offered
5 Bhp @ 6500 rpm max power and 5.8 Nm @ 4000 rpm max torque
Engine mated with automatic gears for safe ride
135.00 mm Ground Clearance, Drum brakes in front and rear
Telescopic Forks Suspension
Analogue speedometer and Fuel gauge
Honda Dio
Price: INR 45,000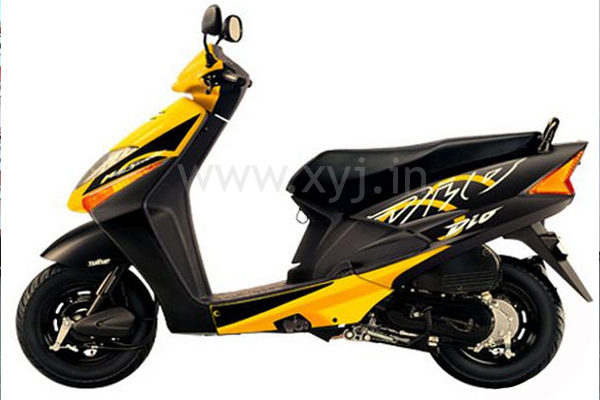 The Japanese manufacturer developed Honda Dio keeping in young consumers of India in mind so that, they can reach wide range of consumers.
Features inbuilt in Honda Dio
60kmpl mileage in highway
45kmpl in city ride
78kmph top speed offered
8 bhp @ 7500 rpm power and 8.74 nm 5500 rpm torque
109cc displacement offered
Refreshed analogue speedometer and fuel gauge
Foot pegs, CBS system with good suspension and brake quality
1 Cylinders
Front Disc/Drum Size (mm) 130
Fuel Tank Capacity (Litres) 6
Hero MotoCorp Maestro
Price: INR 46,000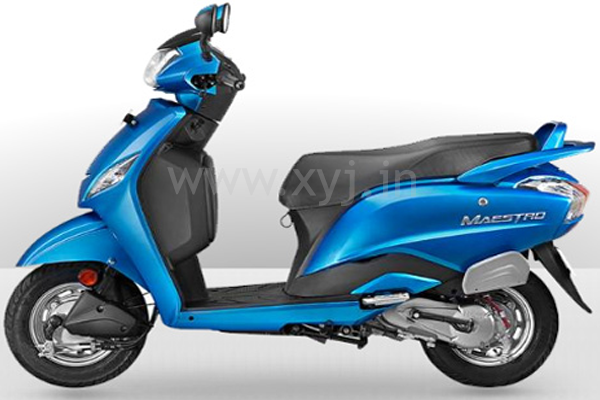 The Indian Two Wheeler company Hero MotoCorp launched Hero MotoCorp Maestro which is similar to Honda Activa as both are gearless scooter.
Features inbuilt in Hero MotoCorp Maestro
60kmpl mileage in highway
42kmpl mileage in city
109 cc engine, 4 stroke single cylinder OHC
Maximum power of 6.0 kW @ 5500 rpm and 9.10 N m @5500 rpm torque
Digital analog cluster
Improved stability along with efficient braking system
Available in one variant with kick and self-start option
Available in six shades of color option
Mahindra Duro DZ
Price: INR 47,000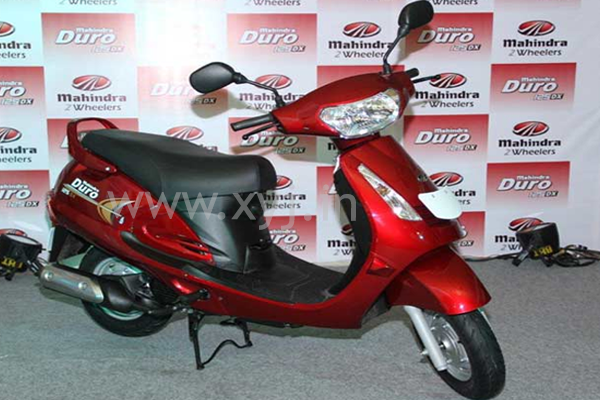 New Mahindra Duro DZ with powerful 125 CC DI engine, advanced telescopic suspension and great mileage.
Features inbuilt in Mahindra Duro DZ
56.25kmpl mileage in highway
50kmpl mileage in city
Powered by 124.6cc 4-stroke petrol engine
8 Bhp @ 7000 rpm power and 9 Nm at 5500 rpm torque
Top speed offered is 80 kmph
Good acceleration and pick up for smooth and safety drive
Kerb Weight114 Kg
Ground Clearance (mm)155 mm
Fuel Capacity (Litres)6.5 liters
Mahindra Rodeo RZ
Price: INR 48,500

With stylish looks and focused the teenage of India scooter made by Mahindra is Rodeo RZ which is quite affordable.
Features inbuilt in Mahindra Rodeo RZ
60kmpl in the highways
45kmpl mileage in city
Powered by 124.6cc, four-stroke, air-cooling engine
8Bhp at 7000 rpm and 9 Nm at 5500 rpm torque
0-60kmph in 9.35 seconds
Available in 7 attractive color shades
Only variant named Mahindra Rodeo RZ standard
Yamaha Ray Z
Price: INR 49,000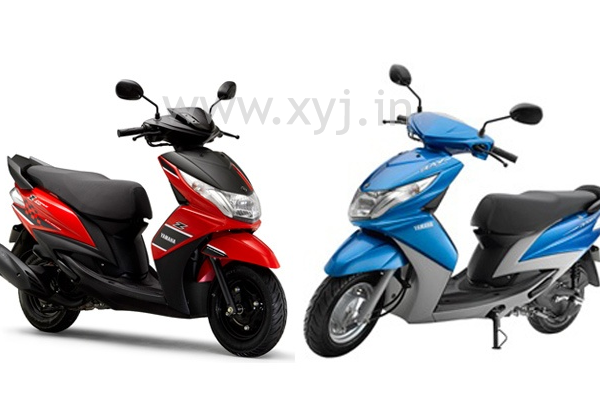 The Yamaha Ray Z scooter receives the prestigious India Design Mark (I Mark) Award 2014, making it the third consecutive I Mark Award win for Yamaha.
Features Inbuilt in Yamaha Ray Z
53 kmpl is the mileage offered
Powered by a 2-valve 4-stroke
SOHC engine produces 7 Bhp @ 7500 rpm power and 8.1 Nm @ 5500 rpm torque
113 cc is the displacement offered
Available in Black Thunder, Pristine White, Regal Red colours
Available in single variant at present
1 Cylinder
Fuel Tank Capacity 5 Litre
Reserve Capacity 1 Litre
TVS Wego
Price: INR 49,000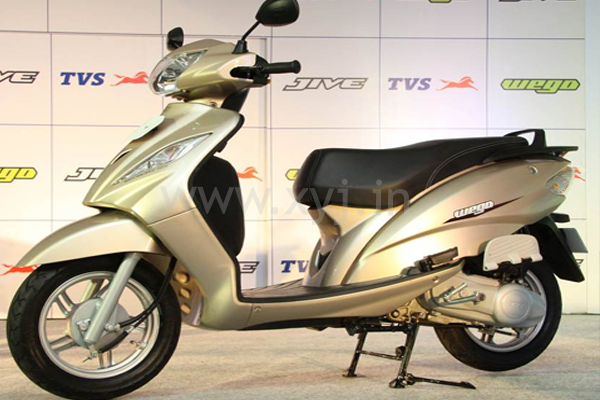 Another Scooter / Scooty from TVS which become very popular in less time is TVS Wego.
Features inbuilt in Hero MotoCorp Maestro
78kmph top speed and 145.00 mm Ground Clearance
Powered by a 109.7cc, Single Cylinder engine with 109.7cc displacement
8 Bhp @ 7500 rpm and 8 Nm @ 5500 rpm torque
Front disc (optional)/drum brakes and rear drum brakes on variant
Automatic transmission featured gearbox
Available in two variants with brown, red, black, blue and golden color options
Hope you find list of top 10 best scooty / scooter  brands under Rs.50,000 worthful so which two wheeler you are going to buy from the market or how is your experience about the above mentioned two wheeler share it here.