The much awaited draw of lots for the Delhi Development Authority (DDA) Housing scheme was held today at DDA headquarters, Vikas Sadan. The whole process was completed around 2 pm and all the applicants who have applied for DDA flats can check their result with their application/registration number.
Mr. Balvinder Kumar, Vice-Chariman of DDA said flats will be handed to lucky winners only after they are completely constructed with all amenities."All payments by those allotted flats will have to be made online…Almost all flats will be ready for hand over by end of December 2014."
DDA will hold special camp at Vikas Sadan after 15 days, where allottees can collect their allotment letters by hand and submit documents. "Altogether 3,914 flats in Rohini and 2,840 flats in Siraspur will be ready by March 2015," Kumar said.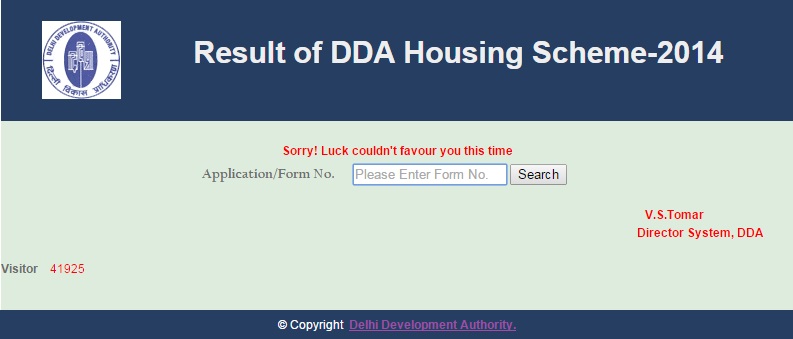 The Draw result can be view only via using your application number or registration number whatever you have and the draw result is also published in PDF for the convenient of the applicants.
Check DDA Draw Result Online with Application Number
http://dda.org.in/HousingScheme2014/DdaDrawResult14.aspx
Procedure to check the dda draw result online with Application/Registration Number.
Click on above mentioned Link.
Fill application ID number or registration number whatever you have
Click on search button.
If you got lucky result will show otherwise get this message "

Sorry! Luck couldn't favour you this time

"
Check DDA draw result in pdf file format easily by clicking here. DDA Draw Result in PDF File for Housing Scheme 2014
If you are the lucky draw result winners then must complete all the documents for the dda flats possession to know what are the documents required for the possession read the recommended article below: