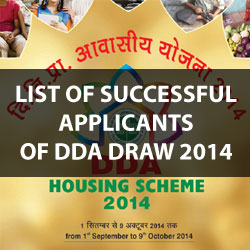 The most awaited draw of lots announced by DDA on Tuesday 25th November at DDA headquarter Vikas Sadan, Delhi for the housing scheme 2014. Under this scheme DDA has offered 25,034 flats and received the more than 10 lakhs application for these flats.
As the DDA draw is completed yesterday and DDA has also release the list of lucky draw result winners for the housing scheme 2014 and one can check it by clicking on the link below.
Download List of DDA Draw Result Winners
http://dda.org.in/tendernotices_docs/nov14/dda2014result.pdf
The above mentioned link is the list of all successful applicants in PDF file instead DDA has provided a link as well to check the Draw Result online with application or registration number. You just need to enter the application/registration number and then press the search button whatever the result is bring is the final by the DDA.
Check DDA Draw with Application Number
http://dda.org.in/HousingScheme2014/DdaDrawResult14.aspx
You can read more about how to check dda draw result online by clicking here. Also read my recently published article: