Have you received your refund cheque, Demand Draft (DD) for the DDA housing scheme 2014 but have incorrect account number or name in the cheque/DD? and worried how to resolve this problem and whom to contact for the correction of wrong details in cheque or Demand Draft.
After viewing several online queries from the applicants who are facing such problem and looking for the solution I decided to write on correction in cheque/dd received from DDA. Before getting the solution we should understand why its happened is the banks are fool? No.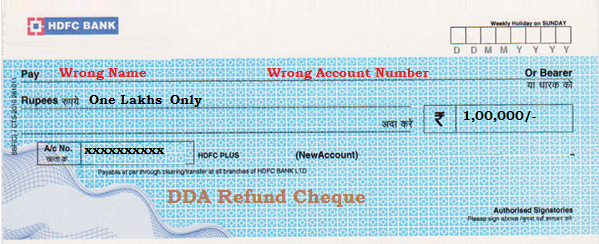 It happens because people used different name while applying and used different name and account number for the refund in DDA application form. For example one of the readers used his father name as applicants and pay money from his account while banks are making draft they are matching the details and making draft accordingly and dispatch to applicants address.
May be you have used, your wife, brother, friend account to make payment you will also face same problem. Then what is the solution to resolve this problem the answer is as follows.
If you receive the refund cheque with your father/mother/brother/sister name and your account number then few things you can do which is as follows.
Solution given by one of the Reader "JaiDev" who got same problem and share his experience and resolve the problem. I really thanks him for detail information.
"Problem: Mismatched name and account number on DD etc.
Solution: Go to the bank which issued the DD/Cheque. Write an application ( first applicant should do this. Fist applicant is the one whose name is on DD. Beware don't write application on the behalf of the whose account no is on the DD. Mind it.), mention correct account no and other bank details of the first applicant. Attach valid self attested photo ID proof. Submit the application in nearest branch. Also give photo ID proof of the one whose account no was on the DD, just in case. Also write the mobile number of first applicant and full correspondence address on the application, so that they can call you if they find anything and yes they did call me so I know it is beneficial.
Provide them with original DD/Cheque.
Don't forget to keep xerox copies of all these documents with you.
In case of problem first call nodal branch of the bank. In case of HDFC I think call CP branch, Delhi.
Result: They transferred the money (RGTS) without any hassle within 3 days."
1st thing you can do that you can open the Joint account in your bank to clear the cheque/ draft.
2nd thing you can call your banks customer care or in your branch and ask them to correct it. If they ask some documents and re-issue you new cheque then nothing could be better than it. In-case your bank refuse to re-issue new cheque or draft then follow the 3rd step.
3rd thing and the last option you have that you have to visit the DDA head office Viaks Sadan, for the correction of the cheque and wait for the another refund cheque but nobody is sure when will you get another cheuqe.
So these 3 options which I recommend to all you guys who have such problem is anyone have other option please share as it is worthless without your co-operation. So keep reading and sharing the genuine and helpful information with others.