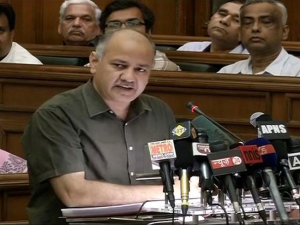 The Aam Aadmi Party (AAP) Deputy CM Mr. Manish Sisodia presented Aam Aadmi Party government's first Delhi budget on 25th June 2015 before the Manish Sisodia Budget Delhi CM Mr. Arvind Kejriwal said that "he expected Sisodia to live up to Aam Aadmi's expectation."  While Mr. Sisodia began the presentation of his maiden budget, he said it is "country's first Swaraj Budget".
In the budget AAM AADMI PARTY (AAP) government has announced 41,129 crore budget with special focus on women's security, education, health, jobs, clean drinking water, smart city, smart administration and more all the highlights of Aam Aadmi Party (AAP) first budget is listed below. Have a glance on it and don't forget to share your thought in below box how much satisfied you are with the Budget of Deputy CM Manish Sisodia. About me I am fully satisfied with Dehli's first budget of AAP party what other say let see.
Highlights of Aam Aadmi Party (AAP) First Delhi's "Swaraj Budget" 25th June 2015
The AAP government aims at making Delhi India's first corruption free state.
We Will install 15 new sewer treatment plants.
Loans up to Rs 10 lakh each would be given to those interested in higher education. Girls will get the loan at 1% lesser interest rate.
Six new working women hostels to come up in Delhi.
Allocation of Rs 3695 crore for transport in Delhi.
E-rickshaw drivers will get subsidy of Rs 15,000 each.
Health budget hiked by over 45% to Rs 4787 crore.
As many as 70 schools will work in two shifts.
Rs 310 crore allocated for skill development and professional education.
At least 20,000 new teachers to be roped in.
We will convert 50 schools into model schools, will install CCTV cameras in all classrooms across all Delhi schools.
We aim at 100% literacy in Delhi in the next two years.
The capacity of solar power in Delhi will be increased.
Power tariff has gone up because of discrepancies in power discoms, said Mr. Sisodia.
Will clean Yamuna river and make it a picnic spot in the next five years.
Will tackle the menace of tanker 'mafia' with the help of GPS.
In three years, will ensure the whole of Delhi gets clean drinking water.
Government is committed to implementation of Majithia commission recommendations.
Government will constitute 'Shramik Vikas Mission'.
Labour welfare centres will be set up across Delhi and the labourers will be registered through a single-window system along with other benefits.
Will give Rs 1 crore each to families of martyrs.
New old age homes will come up in different parts of Delhi.
It will be must for all public mode of transport to have GPS installed.
Marshals to travel in public transport, including buses, to ensure safety of women. CCTV cameras will also be installed in all the buses.
A single ticket will be available for travelling in metro, buses and autorickshaws.
Different modes of transport in Delhi will be inter-connected, bus and auto information will be available on mobile phones.
There will be provisions to keep digital record of patients.
A total of 11 government hospitals in Delhi will be modernised.
As many as 10,000 beds will be increased in hospitals and 1,000 new neighbourhood clinics will come up across Delhi. Of these, 500 will come up this year itself.
Delhi to get a new skill development university.
Bringing an amendment to act against schools and colleges not functioning with transparency.
Budget allocation for education hiked by over 106% to Rs 9,836 crore.
Will introduce single-window clearance system to ease business, invite people from across the country to come and do business in India.
All colleges and villages in Delhi to get free wifi with an allocation of Rs 50 crore.
Every district to get new development authority DUDA.
We are moving towards smart city, smart administration.
As part of a pilot programme, will allocate Rs 20 crore each for 11 Assembly constituencies for development work, says Sisodia. The programme will be extended to other constituencies in future.
No contractor would get payment for their work unless people are satisfied with the work done.
Propose a 'Swaraj Nidhi', which will be used at the disposal of the common man, allocate Rs 253 crore for the same.
We have given over Rs 1,131 crore to MCD by now, whereas it got just Rs 769 crore in the last financial year.
We want constructive usage of the money contributed by people.
Our government is committed to helping the civic bodies in the national capital.
Allocation of Rs 1,690 for subsidy on power and water tariff.
Rs 1,084 crore allocated to Delhi Transport Corporation (DTC).
As much as 12% of the budget allocation will be given back to the Centre against the loans taken in the past.
Amount of Rs 5,908 crore allocated to local civic bodies.
The expenditure plan for FY2015-16 is of Rs 41,129 crore.
We have acted strongly against hoarding and black marketing.
Delhi has been deprived of the recommendation of the Finance Commission, said Mr. Sisodia.
Tax worth Rs 26,604 crore was collected this financial year.
Per capita income of Delhi is more than the country-wide average.
The government plans to build safe storage houses for onions and other essential food items.
We received at least 1500 suggestions for this budget.
Hope you like it and appreciate via your comments like, follow & share on social networking sites.