There is lots of myth about apply for new aadhar card online. Some says you can apply for aadhar card online and some says no you can't apply for aadhaar card online what's the real fact is? To get the answer I tried it myself and found that you can't apply for new aadhaar card online because UIDAI official website is not providing such type of service to Indian citizens. The reason behind not providing online facility for new aadhaar card is because it's not possible to take your photo, finger scan & iris/eye scan online Instead of this UIDAI provide facility to book prior appointment for selected aadhaar enrollment centers and today I will share with you how you can apply for new aadhaar card appointment online and what are the benefits of doing so?.
Why You Should Book Prior Appointment for New Aadhaar Card Online?
The simple answer of this question is that to save time. As all of us very busy in our daily life and visiting for new aadhaar card at aadhaar enrollment centers and stand in long queue I think no one wants to stand in queue if such service is available.
By prior appointment you can select date & time of your choice and visit the aadhaar enrollment center on schedule date and time and provide the necessary documents and give your biometric details such as all your finger scan & eye/iris scan and that's it.
How to Apply for New Aadhaar Card Appointment Online?
As we understand the benefit of online appointment for aadhaar card now the next question is how and from where you can apply for the aadhaar card appointment? Well I have described about it in detail below just follow the steps and all will be done.
Step1. Click on UIDAI website https://appointments.uidai.gov.in/
Step2. You will reached at new page now you will see the form as given in below example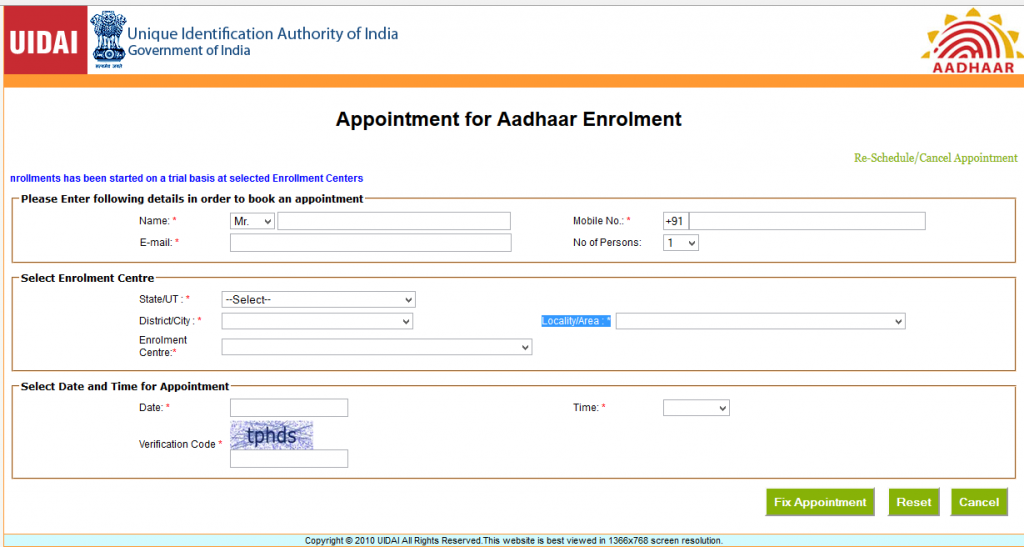 As we can see there are 3 columns
Column 1 "Please Enter following details in order to book an appointment"
In the first column fill your Name, Mobile No., Email ID, No. of person (1-4) you can book appointment for maximum 4 person at a time.
Column 2 "Select Enrolment Centre"
Here you have to choose State/UT, District/City, Enrolment Centre, Locality/Area
Column 3 "Select Date and Time for Appointment"
Step3. Select Date & Time fill verification code in the box click on Fix Appointment button.
[Note: As I said prior appointment is available only few aadhaar center if your state/city/area has no facility of prior appointment then you don't need to worry you still can visit and if you want to check the nearest aadhaar enrollment center click on "List of Aadhaar Enrollment Centers"]
Well done you have booked your appointment for new aadhaar card now you have to visit the aadhaar center on schedule date and time but while visiting the aadhar center keep these things remember in mind.
Things to Keep in Mind While Visit Aadhaar Card Enrollment Center
Booking appointment is the first step of new aadhaar card before visiting the center download aadhaar card form online and fill it dully. "Download Aadhar Form" http://www.checkaadharstatus.in/category/aadhaar-card-form/
Carry following documents with you Proof of Identity (POI), Proof of Address (POA), Date of Birth (DOB) certificate
POI includes: Passport, PAN Card, Ration/ PDS Photo Card,Voter ID, Driving License
Proof of Address (PoA) includes: Bank Statement/ Passbook, Post Office Account Statement/Passbook, Ration Card, Voter ID, Driving License
Date of Birth (DoB) includes: Birth Certificate, SSLC Book/Certificate, Passport, Certificate of Date of Birth issued by Group A Gazetted Officer on letterhead.
Now attached all the Xerox with the form.
Now official Enrollment center official will announce your name or intimate about your presence on your schedule time. So that, They can give you preference accordingly.
Now will they ask for the original as well as Xerox of your documents and dully filled form.
He will verify the documents after verification will give your original documents to you.
Now the operator will start filling your details to aadhaar card database online.
After filling details operator will take your photo through web cam, 10 finger scan & your iris/eye scan.
After doing so, operator may ask to check your details once to verify if anything incorrect just let him know if everything is ok he will submit your data to aadhaar card database.
Once your details submit successfully the operator will provide you a receipt which is well known as "Acknowledgement Slip".
Save this acknowledgement slip with you for future because through this you can check the status of your aadhaar card which should be deliver within 30-90 days after apply.
After 30 days you can check and download aadhaar card if its generated to know how just click on "Check Aadhaar Status Online"  or "Download Aadhaar Card Online".