Buy freedom 251 mobile online which is launched by Noida based company "Ringing Bells" the scheme was already started from 18th February 2016 and will end on 21st February 8.00 pm. On the very first day of scheme the official website of Freedom251.com was got crashed to high volume of visitors and appear this message on the website.
"Dear friends, we are very grateful for your enormous response and your kind patronage and would submit that as of now we received approx. 6 Lacs hits per second as a result of your kind overwhelming response, servers are over loaded.
We humbly submit that we are therefore taking a pause and upgrading the service and will revert within or before 24 hours.
Once again our respectful thanks and gratitude for your support and patience. We look forward your return as soon as we are back online well within 24 hours"
Now today as on 19th February 2016 the website starts working once again and here on this page I have mentioned how you can book / register / buy or purchase Freedom 251 mobile phone online with images step by step so just read and follow the instructions.
Freedom 251 Mobile: How to Book or Register Online?
For booking of freedom 251 mobile phone first of all you have to access the official website freedom251.com
Click on Buy Now button
Now you will redirect on "Cart" page where you have to fill the detail example given in below image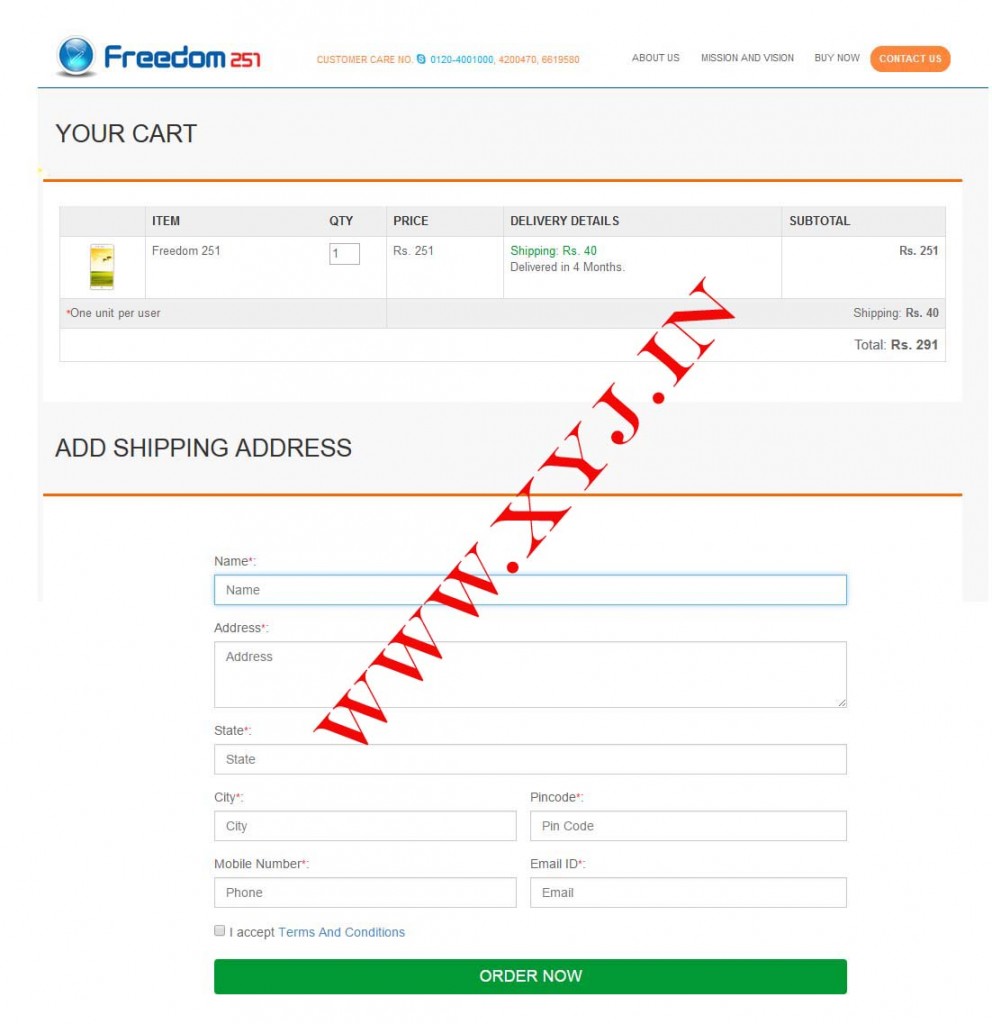 Click on Order Now button
After clicking on "Order Now" you will see an page confirming that your "Order Placed" as example given in below image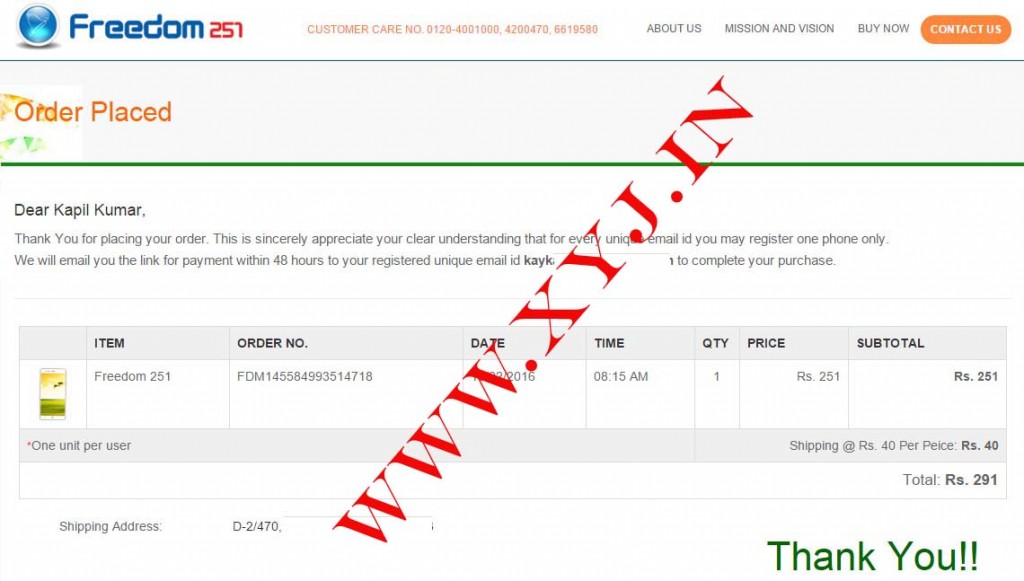 Within 24 hours you will receive payment link on your registered email ID.
By clicking on this link you can make payment.
For detail specification and further information you can found on this page: http://www.xyj.in/freedom-251-mobile-phone-online-at-just-rs-251/
May be you are thinking how cheap a phone could be then below is the detail pricing of the phone:
Diplay – Rs. 59
Board – Rs. 62
Body – Rs. 15
Front Camera – Rs.13
Back Camera – Rs. 18
Battery – Rs. 22
Charges- Rs. 12
Ear Phone – Rs. 15
Tax – Rs. 35
As the Ringing Bell is not very well known company and established last year. So all you have to order this phone on your own risk here we just shared the information how you could buy this phone online if you have any doubt or query please ask it via below comment box.