Today I am going to share few awesome ideas to download YouTube videos for free without downloading any software in your personal computer (PC). Yes, you read it correct you can download YouTube video without downloading any software steps given below.
Actually I was looking to download some videos in my Laptop and get numerous software to download youtube video while searching for the same what I got bingo I got some really great videos which are telling that how you can download youtube video without downloading such software.
Without taking your anymore time I just going to tell you the steps to download youtube video directly from the video which you are watching and wanted to download and the great thing is that you can download video as per your prefer method even in mp4.
Steps to Download YouTube without any Software
Step 1: Visit the official website of www.youtube.com
Step 2: Search for the video which you want to download
Step 3: Now you have the video URL now you need to add "ss" between www. and youtube.com section of the URL and press the enter button.
Example given below:
Suppose you want to download this video URL: https://www.youtube.com/watch?v=wDCAjLhoF9o
Add "ss" as follows: https://www.ssyoutube.com/watch?v=wDCAjLhoF9o
Step 4: Once you add the ss and press the enter button you will redirect to new webpage "Savefrom.net" and your screen looks like below image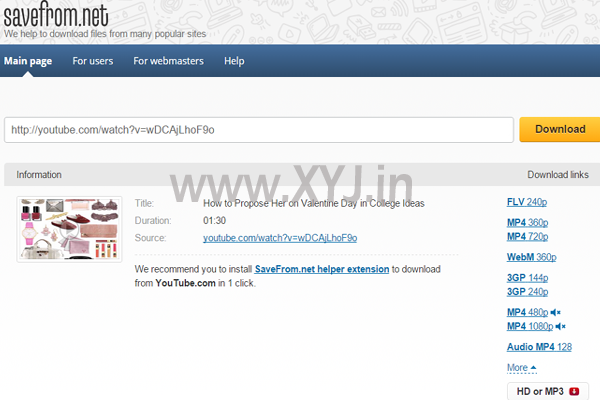 Step 5: Now choose the format of the video and click on link of the format.
Step 6: Your download will start in your downloader.
I am sure it's working for you if this article really help you to download YouTube video and you found it really worthful then why don't share, like and follow us to get such helpful articles.
You can also try some alternative method to download YouTube Videos you just have to access any of these website url and just paste the YouTube Video URL which you want to download and you are done.
http://www.force-download.com/
http://www.clipconverter.cc/

For more url's you can take help of search engine giant "Google". Please don't forget to give your feedback in below box as well.