Are you the biggest fan of "Comedy Nights with Kapil" show and want to know how to participate in the comedy nights with Kapil as a audience then your search ends here. It's general question most of people asked on several online website and that's what forced me to write on this topic. As people looks over internet for online passes, tickets to "Participate in Comedy Nights with Kapil as Audience". To find all these questions answer I do little research myself and shared it here on my blog with you guys. I am sure you will enjoy and find it worthful.
Well I visit the official website of Colors to get the online passes & tickets details for the show but could not found anything on it. However some of the websites claims that online passes and tickets were available online in the beginning but now it close. If anyhow it reopen I will surely update it here on my blog too.
The best and easiest way to participate on the comedy nights with kapil is that you have to be in Mumbai first. You have to reach the shooting place address which Andheri, Mumbai (Dream City) here on set you will be able to know the whole process of how to be a part of comedy nights with Kapil as audience. While I was browsing for the same I found few personal experience of the users on some website which going to share with you below.
Lavish Shakya shared his experience at Quora he said
"Well, I'm glad to know that you are a big fan of Kapil Sharma, as you are well interested to attend his show. So my friend, let me update you with the fact that, one cannot just attend his show by getting certain passes or buying some tickets or such stuff. The people you see, behind Sheri Paa, are called by the crew of Kapil Sharma, I don't know on what basis, but if you would have ever noticed the contents before the show, it clearly resembles that the guests seated in the show are especially invited by the show itself. So my friend in order to get the opportunity of attending the show, you need to get to know about how people are invited to the show, on what basis."
Chirag Gupta shared his experience on Quora.com about how he becomes the part of Comedy Night with Kapil here it is.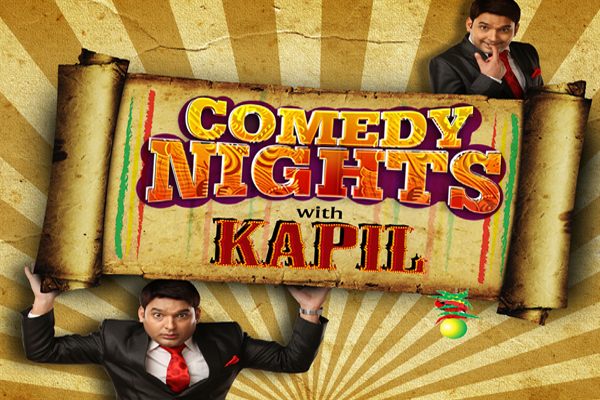 "

The answer is long, but it accounts for most which happened at the studio.It was a great experience. You get to see a lot of bloopers and yes the reality.
Yes. The girls behind Siddhu's seat are models. Not some random audience. 😀
I got this wonderful opportunity to visit the live shoot of Comedy Nights with Kapil. The guest stars were Deepika Padukone and Ranveer Singh Ram-leela promotion.
Audiences are asked to come 3-4 hour before the start of the shoot. Now, divide the audience into the left most, central and the right most. Director asks the leftmost audience to dance with full energy to the song they play. The top 3 arbitrary and funny dancers will be selected from this left most section. Same follows for the central and right most section. From this total 9, better 4-5 are refined and taught better to dance/act funny. We only see 1-2 funny dancers out of these on the TV. Rest is edited.
Now, the question-answer rounds. We can safely assume there are 4-5 questions per episode. However, on the actual shoot, there are 13-14 questions asked. Rest are edited depending upon the entertainment value.
Only these selected 13-14 can ask questions
How are the audiences selected?
Of the 13-14 questioners, 2-3 are pre-decided and are not from the audience. We will continue on how the rest 10-12 are selected? To the audience, director asks who is the biggest fan of the guest starrers. Many hands go up. Then he asks some intrigued questions about the stars. Few hands remain up. Then the warning, questioners should be ready to take insults on National TV. This time, you will find 20-25 hands still raised.
These 20-25(questioner+dancer/singer selection) are taken back stage for auditions. The show-crew already has the questions prepared. They just select the apt people for their questions. For e.g., If they have a question on love, romance, etc. a young boy/girl will be asked to ask to opposite sex guest star.
A guy in audience, who was not in the "script", asked a question. He was immediately kicked out of the studio for not following instructions. This should have been done, because, imagine all the 300-400 audience asking questions out of the "script". It will be a chaos and unnecessary time waste.
Leaving aside few(which are indeed good!) impromptus by Kapil Sharma on audiences name and profession, REST EVERYTHING IS SCRIPTED. Everything is timed. They have a prompter placed beside the band. Actors on-stage frequently refer to it for dialogues.
However, they are providing wholesome entertainment and nothing else should matter.
Some of the impromptu by Kapil Sharma do fall flat. They are edited. However, all the actors are great on-stage. Most of the scenes are one-take shots. This takes a lot of talent.
There are rumours that Sunil Grover has left the show. There was no Gutthi, the time when I saw the shoot. Wish the rumours are wrong.
No, I didn't get chance to meet any of the actors. Actors immediately disperse after the shoot. Audiences are held back during this dispersal.
Edit: Many people are curious about how I got the passes. My sister's friend's father's friend(Phew!) works for this show. He gave the passes."
You can also view this response on the official website of Quora. I hope these little experience and post help you to understand how you can participate in comedy nights with kapil as a audience. If have any query or doubt please feel free to get in touch with your comments.