Admission process for ews classes in Delhi Schools are started and parents are required several documents for the admission which could be found on our previously published article today on this page we are going to share how you can apply and get Income Certificate online & offline to get admission under EWS category in Delhi Schools.
List of Documents Required for EWS DG Nursery Admission??
Income Certificate is one of the most important documents which is required by the parents while taking admission for the children in Delhi School under ews category. Parents can apply for Income Certificate themselves both the method are available you can apply for income certificate online and offline and below are both the method but before you do proceed for the income certificate please carry following documents with to avoid any kind inconvenience.
List of Documents Required for Income Certificate
For Identity Proof
Aadhar Card
Pan Card
Passport
Driviing License
Voter Id Card
For Residential proof
Voter ID Card
Electricity Bill
Water Bill
Telephone Bill
For Income Proof
Salary Slip
Bank Statement of current Year
If you are ready with these documents now move to next step to apply for income certificate.
How to Apply Online for Income Certificate for EWS Admission?
To apply online for income certificate you have to follow few simple steps
First you have to register yourself online here: edistrict.delhigovt.nic.in
Now, you will receive the user id and password now click on login via given link above.
Fill all the details are marked with red as these details are mandatory to fill.
Once fill the details click to submit/apply button and note down the registration number
Within few days few official will visit your office for verification
If everything is fine you will receive your "Income Certificate" soon.
However you can track your Income Certificate Status Online here: http://edistrict.delhigovt.nic.in/in/en/public/trackapplication.html
How to Apply Offline for Income Certificate for EWS Admission?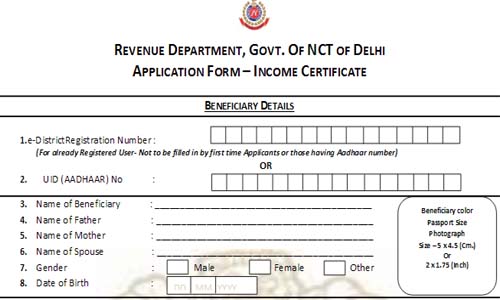 If you are not tech savvy then you must go for this option first you have to download the application form from here "Income Certificate Form"
Once you download it fill it accordingly and attached all the documents and visit your district SDM office and submit all the documents and official will come to your home for verification and issue you income certificate accordingly.
Hope you find it worthful if have any query can get in touch with us and don't forget read following helpful articles.