Have you watched the Indian Super League (ISL) finale Sachin Vs Sourav? Yes, you read it correct it was very interesting football match between Sachin & Sourav teams in ISL. The million dollar of Pic of Sachin & Sourav is pasted below.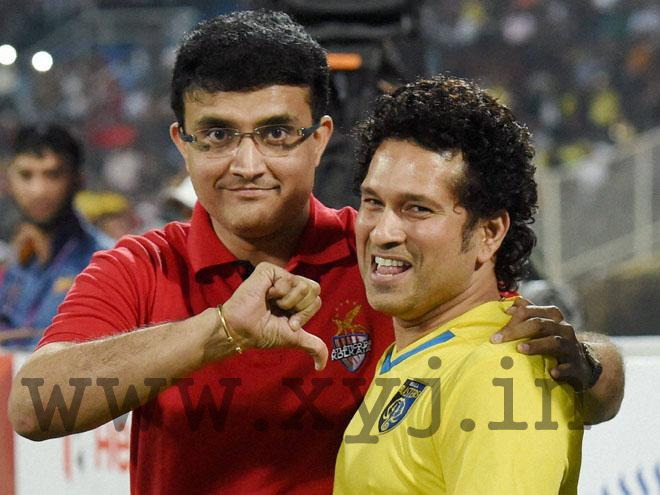 Sachin is the co-owner of Krala Blasters and Ganguly is the co-owner of Atletico de Kolkata. The final match of ISL was played on 21st December 2014 at DY Patil Stadium in Mumbai. As the audience was expecting the finale it fulfills the audience requirement and it was too much fun and interest in the match. In this interesting match Ganguly's team "Atletico de Kolkata" won.
1st Winner of Indian Super League 2014
As I already said that Atletico de Kolkata in short "ATK" won the first season of Indian Super League by defeating the Kerala Blasters by 1-0.
ATK's Mohammed Rafique made the winning Goal in the last minute and made Kolkata 1st winner of ISL.
Atledtico de Kolkata "ATK" Image with Cup winning Moment
Indian Super League Prize Money

The total prize money of the Indian super league is Rs. 18 Crore.
Prize money for the winning team is – Rs. 8 Crore
Prize money for the runner-up team is – Rs. 4 Crore
Two semifinalists who miss out on a place in Final – 1.5 Crore each
Later while speaking to reporters, Sourav Ganguly said winning the football crazy its first title in the sport was really unique.
"Thanks to everyone for supporting us. The journey had begun about three months back and now we have become the first champions of the ISL."
"This is a big win for Kolkata. No doubt there were many people at the Lord's but here Kolkata have won the first title. I'm extremely happy."