MTV Roadies is back again with its season 12 and MTV Roadies X2 auditions are already started in the month of December. If you want to take participant in MTV Roadies X2 can download the audition forms from below given link or from the official website of MTV Roadies.
MTV Roadies Auditions are completed to know who are selected for season X2 click:MTV Roadies Season X2 Contestants Name
Auditions for the MTV Roadies Season X2 will start from 5th of December and continue till 21st of December 2014 in 4 different states of India which details is given below instead of this would like to let you know that there is no such option to register online for the MTV Roadies X2 but you can download the registration form online through the official website of MTV Roadies complete details given below.
Download MTV Roadies X2 Season 12 Registration Form Online
All the interested youth applicants can download the MTV Roadies X2 registration form via accessing the link: http://mtv.in.com/roadies/roadies.pdf
After downloading the form fill it respectively and go to venue accordingly. Gates will be open at 9.00 PM but be prepared and try to reach first because every youth is crazy for the MTV Roadies.
MTV Roadies X2 Audition Date and Venue Details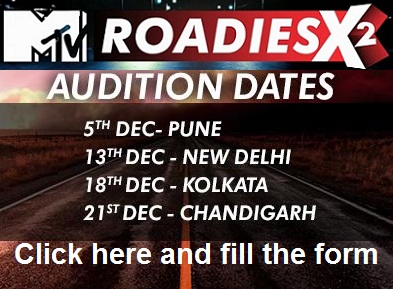 MTV Roadies X2 Pune Auditions
Date: 5th December 2014
Venue Details: Sammer Lawns, Katraj-Dehuroad, Ravet, Pune
MTV Roadies X2 New Delhi Auditions
Date: 13th December 2014
Venue Details: Expo Drive, A-11, Sector-62, N.H.24, NCR Delhi, Noida
MTV Roadies X2 Kolkata Auditions
Date: 18th December 2014
Venue Details: The Lake Land Country Club, Kona Expressway, Munshidanga Post, Gorfa, Howrah.
Go along with a Full-Length Photograph. Gates Open at 9.00 AM
MTV Roadies X2 Chandigarh Auditions
Date: 21st December 2014
Venue Details: Indradhanush Auditorium,  Sector 5, G.K.,  Panchkula
Go with a Full-Length Photograph. Gates will open at 9.00 AM
You can also check List of MTV Roadies Winners of All Seasons