Are you one of those lucky winners who got flats in DDA lucky draw result but not happy with the size and designed of the DDA flats and want to cancel or surrender the DDA flat? Then you must read this post it won't take more than 10 minutes of yours but will give you peace of mind at the end.
In case you want to continue with the flat and want to know what is the process to get flat then you must read my recently publish article: Procedure to Follow by Lucky Applicants to Get the Flat.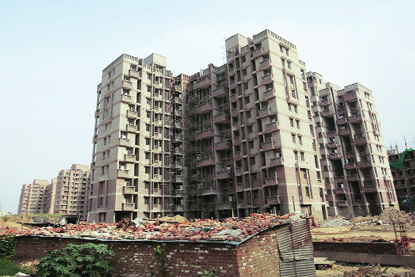 One of my website "Development Authority" one of the user asked me this question that what is the procedure for cancellation or surrender of DDA flats as he is not happy with the flat I have pasted one of the reader comment below about the Rohini flat situation:
"Yes. Like all the above members, even I haven't got any official communication from DDA till date. Only yesterday I had visited DDA Flats at Rohini 35, and the size of the bedroom in 1BHK was a shock to me. You can't put your standard double bed in that bedroom, its too small. Kitchen has very little space. I don't know where somebody will put his kitchenware and other items? Roads are quite broad in the colony, but houses looks like a cramped cane. You can't move freely in your own house. This is total negligence of human life. Very bad design. These houses look good and well designed from outside, but ugly, bad designed and inhuman from inside. I am still undecided, if I should keep it or not?"
With the above pasted comment you can understand the how bad condition of flat is from inside well below I have shared how can you submit request to cancel the flat and what documents are required for the same.
Procedure for Cancellation of DDA Flat in Housing Scheme 2014
A successful applicant shall have the option to surrender the flat before the issue of the possession letter. Allotment will be automatically cancelled in case payment is not made within the prescribed period. No show cause notice shall be issued for the purpose. In both the cases, amount deposited is refundable without any interest. However, cancellation charges as prescribed below shall be recovered.
| | | | |
| --- | --- | --- | --- |
| Sr. No. | Surrender / Cancellation Within Following Days from the date of issue of Demand Letter | EWS Flats | Other |
| 1 | Before issue of demand letter | Nil | Nil |
| 2 | 1st day till 90th day | 1000/- | 5000/- |
| 3 | 91th day till 180th day | 2000/- | 25000/- |
| 4 | 181th day till 365th day.i.e.. date of automatic cancellation | 5000/- | 50000/- |
List of Documents Required for Cancellation / Surrender of DDA Flats
Original allotment-cum-demand letter issued by DDA in respect of allotted flat.
Proof of residence in case there is change of address as given in the application form.
Photocopy of passbook or bank Manager's/In charge's certificate in case there is change in bank particulars from that given in the application form.
Note: In case flat is cancelled automatically as stated above, refund will be made after deduction of cancellation charges as stated above and no interest would be paid on amount deposited.
Hope you find it worthful and don't forget to share your thought or query in below comment box.