You can make changes in your Aadhaar card name, address, gender, date of birth, gender online as well as offline mode but when it comes to change Aadhaar Card photo you are not allowed to make changes online. If you want to change your photo you have to follow the offline procedure only. On this post I am going to tell you how to update aadhar card, Address, Photo, Name, Gender & Date of Birth online as well as offline.
Change Name, Address, Phone, Gender Date of Birth Online on Aadhar Card
To make changes in Aadhar card online you have to follow these simple steps but before proceed please carry your registered mobile number with you and scanned copy of your self attested supporting documents in your PC, Laptop.
You need Proof of Identity documents to change the name in Aadhaar Card
You need Proof of Address documents to change the address in Aadhaar Card
You need Proof of birth certificate documents to change the DOB in Aadhaar Card
Now you may proceed first click on the link to update aadhaar data: https://ssup.uidai.gov.in/web/guest/update
It will ask your 12 digit aadhar number
After filling aadhar number fill the verification text in the next column.
Now click on send OTP button.
You, will receive 6 digit OTP on your registered mobile with Aadhaar card
Fill this password and proceed
Now select the address change field
Choose your local language or English language
Now upload any of the proof of residence document
After doing so, you will get URN number. Note down or save this URN number because without it you can't track aadhaar card status.
If you want to check the Aadhar Card Status address change correction progress online please click here.
I am sure you have made changes online if not or facing any problem can drop your query in below comment box. Now move to offline method because still there are lot of applicants whose mobile number is not registered with their Aadhaar Card.
Change Photo, Name, Address, Phone, Gender Date of Birth Offline on Aadhar Card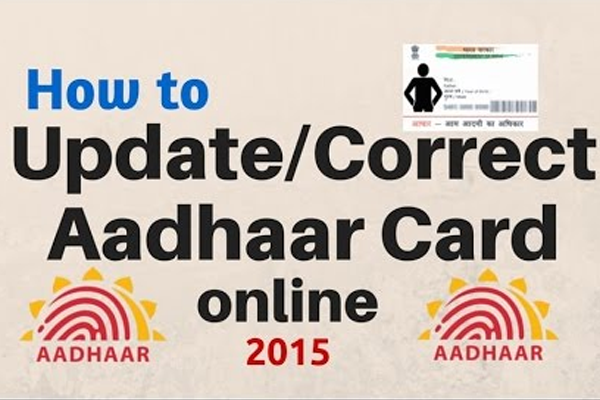 There are several people who could not register their mobile number with Aadhaar Card. So, its for all you guys who want to make changes through offline or post mode on Aadhaar Card.
Residents can Update/Correct the following 6 information on their Aadhaar letter by sending an
Application through Post to UIDAI:
Photo/Image/Picture
Name
Address
Date of Birth
Gender
Mobile Number
First you need to fill out the form AADATA DATA update/correction form and sign off. You can download the form from here: "AADHAAR DATA update correction form"
Fill the form respectively and attached self signed supporting documents as per the valid document list which could be find from here. "List of Document Required for Aadhar" and send it UIDAI Regional Office.
UIDAI Regional Office Address
Regional Office
Khanija Bhavan,
No. 49, 3rd Floor,
South Wing Race Course Road,
Bangalore – 560 001
UIDAI Regional Office,
SCO 139 – 141,
Sector 17-C,
Chandigarh
UIDAI Regional Office,
5th Floor, Block – III,
My Home Hub,
Madhapur,
Hyderabad – 500081
UIDAI Regional Office,
5th & 7th Floor,
MTNL Building,
B D Somani Marg,
Cuff Parade,
Mumbai – 400005
UIDAI Regional Office,
1st Floor, RIADA Central Office Building,
Namkum Industrial Area,
Lowadih,
Ranchi – 834010
UIDAI Regional Office,
Samaj Kalyan Nirman Nigam Building,
3rd Floor,
TC-46/V Vibhuti Khand,
Gomti Nagar,
Lucknow (UP)
If you have time you can visit the nearest Aadhaar Card center for these changes they will ask for fee for this service as new AADHAAR Enrollment is free but later if you wanna make any changes you have to pay a minimum fee of Rs. 50 or Rs. 100. You have to be present at Aadhaar center with your supporting documents and form which link already given above in the article. The Aadhar official can make all changes which include your Photo, Address, Name, Mobile Number, Gender & Date of Birth. To know your nearest Aadhaar card center click here "List of Aadhar Card Enrollment Centers in India".
If you like this post please share it with others so that they can also take benefit of it. Instead of this if you have any query I will try to resolve it here just let me know it via your comments in below box.